Okay, keeping up with my previous post about arriving at the Hong Kong Airport (terminal 1), let's keep the show on the road and deal with the next part of your journey, getting from arrivals to your comfy, wonderful hotel (or the hole in the wall you have chosen, depending on your desires). The good news as you can see is that the aiport is absolutely filled with clear and distinct signs, and they are all bilingual English and Chinese, so no problems here for most people (if you are reading my blog, you are probably okay). The pictograms are also nice and clear and easy to follow.
Hong Kong Airport is laid out in a pretty organized way, and the ground transportation is pretty much all in one area. As you come out of Gate A or B (see my previous Hong Kong Airport Arrival post for more in that part), the ground transportation options are generally right ahead of you. How you decide to do things will depend on your budget and size of group.
If you are coming in with an organized tour group, generally your tour leader should meet you right here in front of the gates, and you don't have to go any further. Keep your eyes open for the person holding the right sign for your group, and you are on your way. The same thing with most pre-arranged travel by limo or shuttle bus. If their service includes meet and greet, they will do it right about here, and they will guide you from that point.
If you are like the rest of us and having to figure your way from the airport to the hotel yourself, then it's time to examine your choices on how to get where you are going. It's also time get yourself some Hong Kong supplies so that the rest of your trip goes well.
There are three general ways to get to your hotel: train, taxi, or bus. Hong Kong has amazing public and common transit systems, and each of these options has a plus and a minus. Let's have a look at each one:

Airport Express: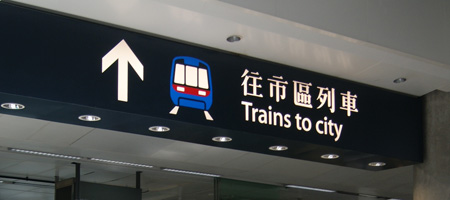 I do like the airport express, and in fact, my 3 year old son (at the time of this writing) actually wants to take the blue train from time to time because it's different from the regular commuter trains, and much faster. I do indulge him from time to time, he loves the airport too! The airport express runs right from inside the terminals (it's sandwiched between terminals 1 and 2, easy to access) and goes to Tsing Yi, Kowloon, and Hong Kong stations (central in Hong Kong). It's quiet, quick, and they claim the trip to the city takes 25 minutes. It's a pretty good option, and price wise, it's not bad at all – single tickets run about $100HK – you can check out the fare information for the airport express here. As a bonus, they also have free shuttle buses that run from the destination stations to at least some of the hotels. You can check out the list of hotels here, but if your hotel is not on the list, don't worry. As my friend John would say, "there is always a red box for that!".
Taxis: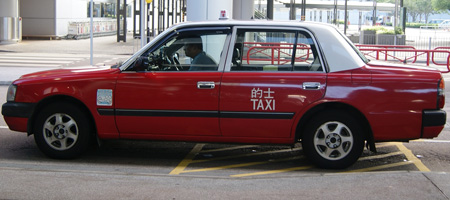 These are the "red boxes" my friend John talks about, although depending on your destination they are red, blue or green. That in itself merits another post, and I will link it here when I am done because knowing the color of your taxi is key to getting this all right. Taxi fare from the airport straight to your hotel on Hong Kong island might run you about $300HK total (or about $40 US at the exchage rate as I write this) total, so if you are three people considering the airport express, you might want to use a taxi instead. If you are two people, it still can work out if your hotel isn't on the free shuttle bus route, and honestly, it's really nice to get a ride right to the door without having to think too hard. Taxis are a very integral part of Hong Kong life, you will quickly realize that much of the traffic on the streets are buses, taxis, and delivery trucks!
Buses: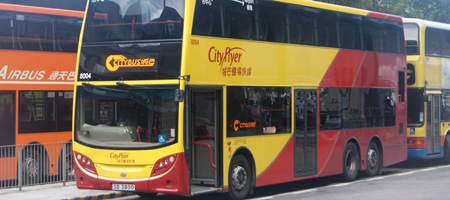 The bus option can be very interesting, especially if you are going to specific destinations or areas that are not covered by the airport express train. You can check the hong kong airport city flyer routes here, they are the routes that start with A. These buses can certainly get you much closer to your destination, if not right on it, and you can always work on a taxi from there. This is the most obvious economy method. Beyond that, there are also a number of normal public transit buses that pass through the airport. For those in the know, you can take the S1 or S56 bus from the airport to Tung Chung MTR station, and take the subway from there to anywhere in Hong Kong. I would have to say you would have to be pretty adventurous to try this option fresh out of the box, but if you are a repeat traveler to Hong Kong or are familiar with the MTR system, this can be a good way to get yourself going.
For the most part, I would recommend the Airport express if you are alone, if you are a larger group, or if your hotel is one of the ones on the free shuttle bus list. You either end up at your hotel or at least much closer than you would have been otherwise. The three airport express stations also are taxi magnets, so you will have no problem getting a red box from any of these locations to your hotel directly. Certainly since the taxi isn't all that expensive compared to other parts of the world, it is usually a fairly safe and direct means to get to your hotel.
However, don't leave the airport until you have gotten your basic Hong Kong tourist equipment – check out that post to know more about the basic things to have to get around Hong Kong and enjoy your stay.
Click here to read the Before Your Leave the Hong Kong Airport post!