Before you leave Hong Kong airport for your hotel (or other final destination in town) there are a couple of things you should do. These two important steps will turn you into a real Hong Kong person and make your trip very much more interesting.
Before you can do either of these things, you will need some cash. Hopefully you followed my advice and didn't do any money exchange in the arrivals area of the airport, their rates are generally terrible. The best way to get cash in Hong Kong is to pull out your trust ATM / cash card and make a withdrawl. At current rates, a $1000HK dollar withdrawl is about $130 or so US dollars. Thankfully, there are a number of ATM machines right in the airport, which makes things a little easier.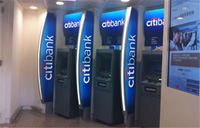 The cash machines are generally located in the area between the A and B exits, near the central elevator / escalator complex. If you came out of the A gate, that will be to your right down the concourse, and if you came out of B, it's to the left. All of the stores and services are located along the wall between the A and B gate exits, so as you walk along from the A gate you will have shops and banks on your right, and restaurants on your left (congrats, you just saw your first Hong Kong McDonalds!). There are a couple of sets of ATM machines along the right side near the elevators. I think they are a Citibank and an HSBC, but not to worry, they have global access to most other banks. Withdrawing cash here will likely get you a much better rate than trying to exchange cash at the airport. You should probably withdraw a couple of thousand HK (which is only $250 US dollars) as you will need to spend a bit in the next few minutes to get yourself organized.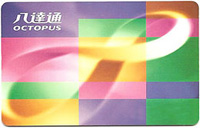 Now, for Hong Kong step 1: You need an Octopus card. Why would you want an octopus on a card? Well, actually, in Hong Kong the Octopus card is possibly one of the single most useful things you can have. It's you method for paying for trains, buses, subways, and even the airport express train. So in that regard, it's sort of a transit pass. But it is much more, because pretty much every small convenience store (7-eleven, Circle K, Vingo, and others) will have a machine that lets you pay for your purchases by deducting right off the Octopus card. No more fighting for change! You will actually be very surprised all of the places you can use it instead of cash, from McDonalds and KFC to local restaurant chains like Fairwood or Cafe Coral. You can use it to access the cross harbor ferries, you can even use it in some places in Shenzhen in mainland China. It's a value added storage device that will keep you from ending up with a pocket full of change, and also help you to not slow down lines in convenience stores!
Best of all, the Octopus card can be refilled (in increments of $50, I think it is) at ANY location that accepts it. I generally refill mine at the local circle K. This is a top tip for avoiding tons of useless change in your pocket while in Hong Kong.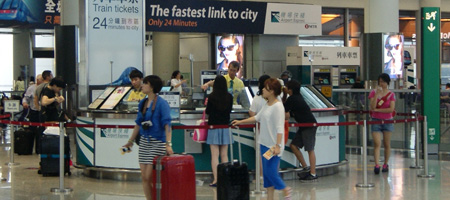 Getting an Octopus card is easy as finding fishballs in Hong Kong (more on that some other time). On the side of the concourse closer to the restaurants, you will see these wonderful round green and white booths, usually with "TRAIN TICKETS" signs on top of them. They sell Octopus cards here, so now is the time to get you one. Each card costs a minimum of $150, with an initial stored value of $100 (but you can go very slightly into the negative on a given trip… ). You need one Octopus card for each person, including children over 3. You may want to ask them to set the initial value to $250 or so for each, because if you are going to take the airport express, your value will be low when you get to your hotel.
Congratulations, with your Octopus card in hand, you have passed the first hurdle and are now all but free to enjoy Hong Kong.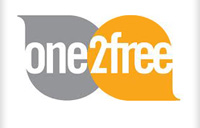 Second stop in the terminal is optional, but highly recommended. Heck, I would almost call it a needed step these days, and that is to get a local sim card for your phone, smart phone, or 3G / 4G tablet. I won't go into the pricing details here, I will have to make a slightly more detailed post to explain it, but here are the basics. There are a number of companies, (1010, 3 HK, China Mobile, PCCW, and others) who have short term or "pay as you go" service plans. They have everything from local voice only to data and even 4G LTE options. Data is a touch on the expensive side, but not out of bounds, and let me tell you, a good internet connection and GPS software on your smart phone can make your day in HK. Plus you can always use the internet to look things up. The best news is that cell phones and data work almost everywhere, including in trains and subways. If you don't want to get data, there is plenty of free wi-fi around, but it's somewhat spotty. Your phone must be unlocked and a GSM phone get service in Hong Kong, make sure of this before you leave home. If it is not, you will still have some good options in Hong Kong for service if you so desire.
Anyway, armed with your phone, head to the "shop" side of the concourse (near the banks). I know, it seems you are going back and forth, but it all works out in the end. Almost right behind the central elevator is a 7-eleven store. Go in there and tell them you need a prepaid local number sim card. They should sell you one for around $100 HK. While I actually use 3 HK for my cell phone service, for short term service I actually recommend One2Free, as they are pretty easy to deal with and will even allow you to recharge your HK number remotely if you ever want to keep it active for a future trip. They have decent mobile data plans as well, so you can get online in a decent hurry.
Important note here is that you can recharge your sim card (or add value) by purchasing a recharge at 7-Eleven or other similar stores. They will give you a long print out with a number of in it, follow the instructions on your phone to add value, and you account will be credited immediately. No account, no signup, no nothing… just phone service that you need.
I highly recommend that each person in your group who has an unlocked phone get a simcard. They really are not expensive, and you can trade around the phone numbers so you can find each other. This is pretty important in HK, because I can tell you from experience that I have lost my wife in a shopping mall here on more than one occasion, being all over about 100 feet away from her. It also gives you the security of being able to call for police or other emergency help (dial 999) if you need it. For less than $20 US, it's possibly one of the best investments you can make.. A phone can also help you to locate shops and such, if all you have is the address and number of a destination, you may not be able to find the shop directly. Calling them might help you when you are close by.
So, get your sim card in your phone, your octopus card in your pocket (keep it handy, you will use it a lot!)… now you can take the train, taxi, or bus of your choice to head to your hotel!