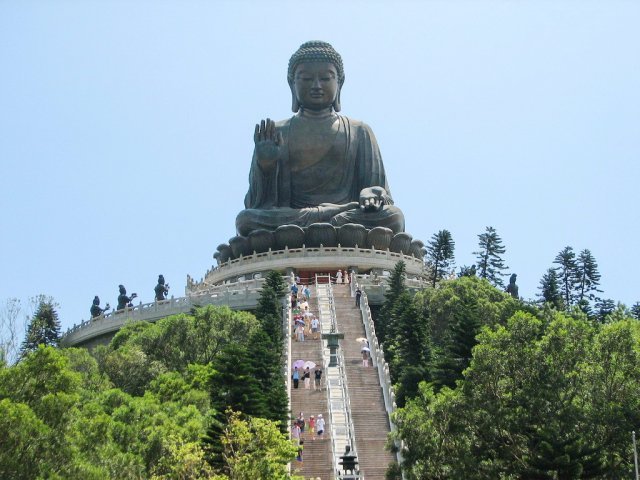 Located near the Tung Ching MTR station, the Ngong Ping 360 is a popular attraction for people who are trying to see something other than the near endless downtown core that is Hong Kong. It is made up a a Gondola Cable Car with an almost 6KM ride length, and the Ngong Ping Village.
The Gondola ride starts next to the Tung Chung MTR station, and rises up over the mountains through two turns and 8 Pylons to arrive at the village. Almost all of the ride is through the North Lantau County Park. It gives impressive views of both nature and the massive Hong Kong Airport as it rises up, and then over the mountains.
Ngong Ping Village is the primary destination for this cable car, which is a cultural destination showing off some of the local culture, dining, and of course (because you are in Hong Kong) shopping. There are various themed events and shows, including the Monkey Tale Theater. There are seasonal shows and experiences here.
One of the most popular parts of the Ngong Ping 360 experience is that you are a very short walk from the Tuan Tan Buddha, also known as the Big Buddha. It stands (or actually sits) on top of a hill and at 34 meters (or 12 stories) tall is very impressive to say the least. It's a true postcard moment for any traveler.
The Ngong Ping 360 website is here, check it for current discounts and promotions! Please note that the last ride back is around sunset (more or less 7PM) and the attraction may be closed on certain days or if the winds are too high.