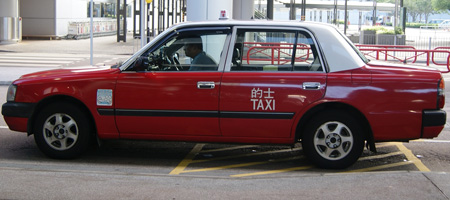 Taxis are pretty much universal in Hong Kong, in that almost everyone takes one from time to time, and in some cases, they seem to be about half the traffic on the streets (the other part being double decker buses!). They are also a fairly decent bargain for getting around town, especially if you understand a few things about how the systems work in Hong Kong.
Hong Kong Taxis come in three flavors, Red, Green and Blue. The red Hong Kong taxis are the most common, they serve Hong Kong Island, Kowloon, and most everywhere else. There are a few tricks that come into play because of the difference between Kowloon and Hong Kong side, but we will get to that in a minute.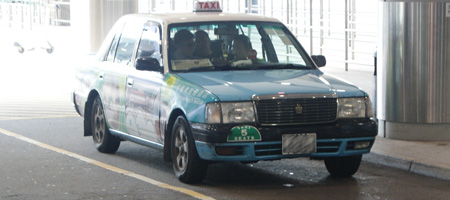 The blue Hong Kong taxis serve Lantau Island exclusively. This is where you will find City Gate, Disneyland Hong Kong, the Big Buddah, and many other attractions. You can only get a blue Taxi generally if you are already on Lantau Island, and they will not normally leave the area either, except for airport runs. Unless you are heading to Lantau Island or taking a taxi from the airport, you might never see this rare Hong Kong Taxi.
Green Hong Kong taxis cover the New Territories. That is everything north of Kowloon, including places such as Sha Tin, Tuen Mun, and so on. If you venture north, you are likely to see these green taxis. Again, they do not leave their area except for airport runs.
The red Hong Kong taxis rule, and they go everywhere. While they generally won't do short run trips on Lantau Island or in the New Territories, although they can. You will find them in both areas making trips to Hong Kong Island and Kowloon areas however. Please be aware that when you take a taxi through a toll bridge or tunnel, that toll will be added to your fare. Many red taxis will not venture outside of their areas, and if they do, they will be looking for a "return" fare. There are a number of locations (such as the Sheung Wan ferry terminal) where there are separate lines for taxis that will return to Kowloon side only, and there are a few areas in Kowloon and TST where you can find taxis ONLY going to Hong Kong island.
While you can flag a taxi down on the street in Hong Kong, it's recommended to look for taxi stands or parking lines, as you will usually find a taxi faster. You can also do the "swoop" as a taxi drops someone off, pretty much jumping in and off you go. Some drivers may not want to do that, but most are more than happy to get more business and stay active. Drop fees vary by area, but the red taxis drop fee is $20hk at this point, and includes some distance before it starts counting. Overall these are a very good deal if you are going point to point with 2-4 people, you can really cover a lot of ground!