Planning a trip to a distant place is often a bit of a crap shoot, it's hard to tell what the weather is going to be, and hard to know what to pack as a result. Thankfully, Hong Kong's weather is mostly predictable and easy to plan for. The Hong Kong Weather Office has an app for Android and Iphone that will keep you constantly updated with live updates including warnings for incoming storms and such.
First and foremost, Hong Kong is sub-tropical (so we have palm trees!), and because of it's position is generally very humid. Local weather forecasters consider any day under 60% humidity to be a dry day. As someone who comes from a very dry climate originally, I can assure you that Hong Kong is every bit as humid as they say, including some times where the humidity level nears 99% without raining. The factor of humidity has an effect both in the heat of summer and the coolest months of winter. The humidity is generally the lowest in the fall season, where the airflow is coming from Mainland China over land rather than from the sea.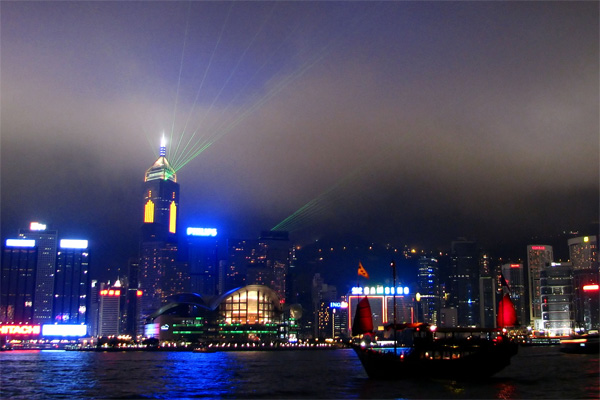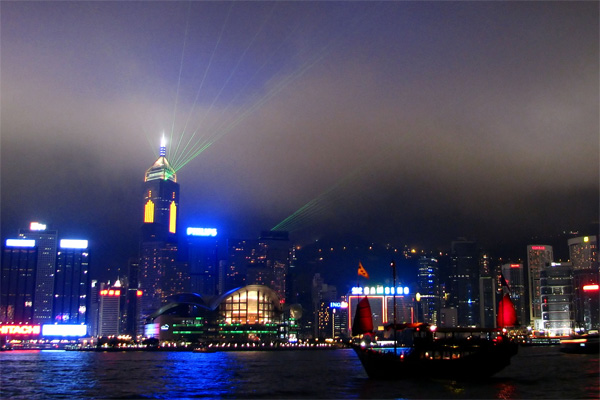 Hong Kong winter runs from about December to early March. During this time, the temperatures have a fairly wide range, going as low as 5-8C for the coldest days, and sometimes upwards to 24-26C on the warmer sunny days of winter. There is generally not that much rain during the winter months, although it does happen. The humidity is generally quite high, which makes the cold temperatures feel a bit colder, it sort of goes right through you.
March and April are "spring", where the temperatures are slowly increasing so that by the end of April, 30C is not out of the question. For reference, the outdoor swimming pools in Hong Kong generally open for the season during April or May 1st at the latest. The biggest difference over the time frame isn't so much the high temperature, as much as the low temperature, which quickly moves up to the point where it's never below 20-22C even at night. There is a bit more chance of rain during this period, but the temperatures are generally pretty enjoyable.
Summer in Hong Kong comes in a couple of parts. First there is the early summer period in late April through June. This features plenty of nice high daytime temperatures, high humidty, and the continued increase of the nightly low temps. By the end of june, the low temperatures will be 26-28C at night, meaning that yes, Hong Kong is always hot. This is also the start of the rainy season, which continues all the way through summer into September. The second part of summer in July, August, and September includes the most sunny days as a percentage in the year, but is also peak time for typhoons and heavy storms. Temperatures are almost a rock steady 30-33C during the day, and 27-30C at night. Hong Kong typically gets a few Typhoon events per year, but they are generally short lived. The Hong Kong observatory has a system in place for warning about typhoons and other significant weather, so these storms will never be a surprise. When a Typhoon signal is raised (warning of an income storm) you will see signs in many places, including on TV and in shopping malls and such. Hong Kong however does not stop for these storms until they reach a high level. Hong Kong is a very safe place to ride out such a storm if it happens during your stay.
The fall is by far the nicest time to come to Hong Kong, in my opinion. Late September and early October have a great combination of warm temperatures (still around 30C) and significantly lower humidity (under 70% often enough), and with the added bonus that many of the locals consider it fall and stay away from many of the attractions such as beaches and such. The temperatures often stay quite nice well into November, slowly dropping off as we transition back to the winter cycle. The average high temperature in November is till 25C, very comfortable for walking tours and seeing Hong Kong. With the local children in school and most everyone else back to work, it's pretty much the best time to get access to the attractions and events around Hong Kong, and you will find the shortest lines during the weekdays at Hong Kong Disney as well.
Overall, Hong Kong has no really bad seasons for weather. The humidity will certainly get your attention, especially during the summer months. The air quality in Hong Kong is often not the best, especially during the winter months. If you have asthma or other breathing related ailments, you may want to lean more towards summer and early fall for the best air quality and sunny days.