I have many people ask me about getting around in Hong Kong and the amount of time required to get from one place to another. Knowing how many places you can go and how long it would take is sort of key when you are planning a vacation or a sightseeing day out. Before we get to that in a future post, I figure I should explain a little bit more about getting around in Hong Kong. It may come as a surprise to many, but public transit (buses, subways, trains, trams and the like) is pretty much the best way to get around in Hong Kong for many reasons.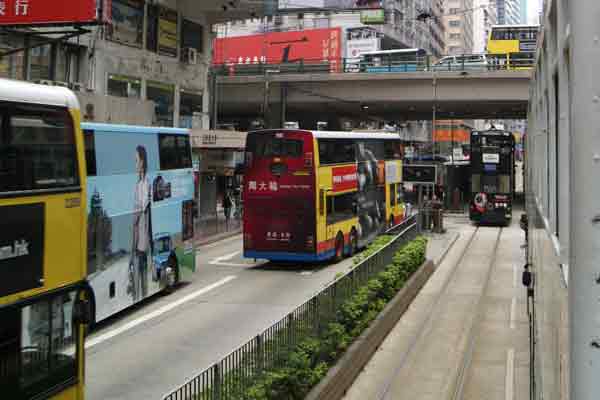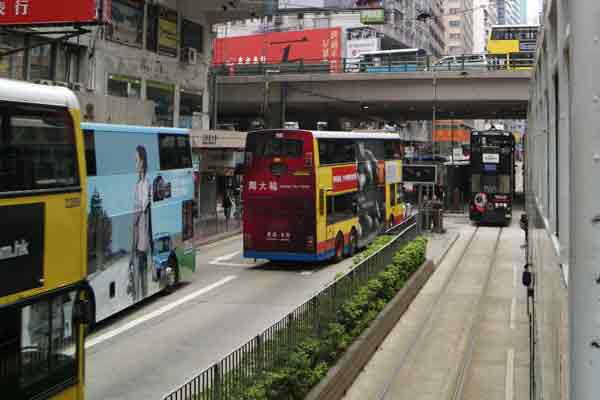 As I discussed in an earlier post, an Octopus card is a key part of your visit to Hong Kong. They are like a little wallet of money you can use in many places, and are a key part of riding the public transit systems in Hong Kong. If you intend to use public transit at all, it's worth getting a card. They are not expensive to get ($150 HK to start out, which gets you $100HK credit plus some over run space), and they really open up Hong Kong. I can tell you that living here, I must use my card for non-transit related purchases probably dozens of times each week. It's just that good.
The key component of the public transit system in Hong Kong is the subways, trains, and light rail trains. Subways and trains are relatively interchangable, as many of the "subway" lines actually run outside, and trains like the blue line (which goes to the border at Shenzhen) have subway style stations but run on train like open rails. Except for cross border trains into China (which generally leave from Hung Hom Station) everything else is "public transit", generally run by the MTR. Their stations are all identified with the same MTR logo, a very common sight in Hong Kong. To make it easy, I refer to them all as subways from now on, even though they may run outdoors.

For the most part, the subways go pretty much all over in Hong Kong. Many of your destinations will be referenced by which station (and which exit from the station, more on that later) you should use to get there. Almost every subway station also has nearby bus stops and terminus points, taxi stands, and the like, so if your destination is a bit away from the station, your next move isn't far away. Most of the major tourist destinations are generally readily accessible directly from subway stations, with a few notable exceptions.
A note on the scale of Hong Kong. If you look at the map of the Hong Kong subway system and Hong Kong itself, I can tell you from personal experience that you can go from all the way in the East end of the subway system to it's most Western point in about an hour. The trip from Hong Kong Central station to the Npong 360 attraction in Tung Chung is about 35 minutes total. The truth is that in Hong Kong, few areas are truly "Far" in the sense that you may be use to in places like the US or Canada. Hong Kong is a very vertical place, and distances from point to point are not that bad at all.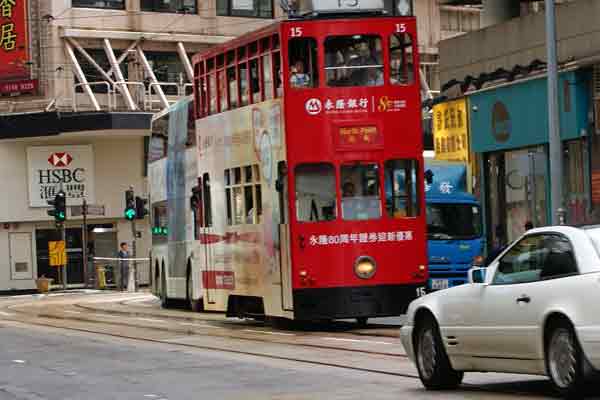 The subways generally use a beep in, beep out method to calculate your far. You beep your Octopus card on the reader to get into the subway, and you beep again on the way out. The entire system is based on the distance you travel. There are maps at most major stations you can use to see how much it will cost from point to point. Don't worry too much, public transit is relatively cheap in Hong Kong, the trip from Central to Npong360 costs about $2 US. Buses are generally a beep in and you are done. The Trams on Hong Kong island are the reverse, you get on freely and beep your way off. Minibuses generally are pay the fare when you get on. When you beep your card, the machine will display your remaining balance. Keep an eye on it, when it gets near to zero you will need to recharge it. Thankfully, you can recharge your Octopus card inside subway stations (at the booth) or for that matter at any 7 Eleven, Circle K, or similar shop. By the rules, any shop that accepts that Octopus card can refill it (I sometimes do it at the supermarket), but generally convenience stores and the MTR stations are the common places to add value.
Hong Kong has a lot of buses, most of them are double deck buses. There are a number of different bus companies as well, which can add a bit of confusion to things. However, you don't really have to worry too much, as they all accept the common Octopus card, so things are very easy. There are (with a few exceptions) no real transfers in the transit system. You pay for what you use. So if you take a bus to the subway, you pay for the bus and you pay for the subway. The rates are generally low enough that this is not a problem. The results of this is that in Hong Kong, you will see many different colors of buses, from companies such as KMB, City Bus (who also operate the City Flyer airport buses), and a number of other smaller companies in the regions. You don't really have to worry too much about this stuff, if you are taking a bus (pretty rare for tourists, honestly) they are easy enough to spot. The major bus companies also have Iphone and Android apps that make it easy to find a bus, find the right stop, and so on. They are plenty more fun things about buses I will get into in another post, let's just say that there are some tricky things that can catch you out. Not to worry, it's all in good fun!
One of the best deals in transit in Hong Kong are the old fashioned wood trams that run on Hong Kong Island. It costs under $3HK for a ride, and they go from almost one end of the island to the other. They are slow, no doubt about it, but they can be very useful. They are very good at getting from point to point over short distances fairly quickly qithout having to go into the subway, and they also allow you to get a pretty good view of some of the neighborhoods in Hong Kong. I made a video a while back of riding a tram through the North Point market, it's something to see. Hong Kong trams are a piece of history that are also a popular form of public transit to this day. If you have the time, plan to ride at least a little bit to get to see some more of Hong Kong.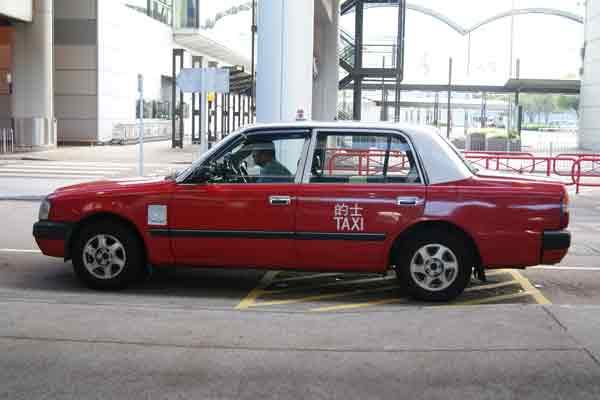 Finally, as I mentioned in an earlier post, Taxis are a very common way to get around in Hong Kong. The vast majority of residents don't own a car, and I would guess to say that many of them don't have a drivers license either. So when they need to get around, they use public transport, including taxis. Drop rates on the taxis are pretty low, but over longer distances you can run up a bit of fare if you are not careful. I don't recommend using them for really long distances unless you are pressed for time, it's almost always better to at least ride the subway closer to your destination and then get a taxi from there. There seems to be a taxi about every 3 or 4 seconds going by in Hong Kong, you will never have to wait too long.
One thing for sure: Unless you are willing to pay the fees, don't take a taxi from Kowloon side to Hong Kong island or back. Generally, they will pass along the toll fee which can be upwards to $100 depending on the route they take. It's much better to take the red line subway from one side to the other and go from there.
Overall, the combination of taxis, buses, and the all important subway system will let you get around Hong Kong and really enjoy your say, all for very economical rates.